Bio
Hello, and welcome. I'm Mike Pospis, the the founding member and owner of Pospis Law, PLLC.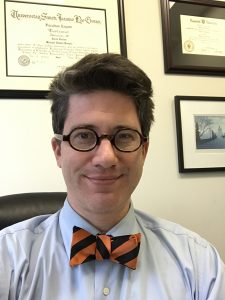 I have dedicated my career to representing plaintiffs in Employment Discrimination, Sexual Harassment, and Personal Injury cases and to obtaining compensation for victims.
I have represented clients in state and federal courts and in agencies (including the U.S. Equal Employment Opportunity Commission (EEOC) and the New York City Commission on Human Rights).
My pre-legal working life is diverse. Beginning at about age 11, I have had many different types of jobs in many environments. These include delivering papers, delivering food, waiting tables, stocking shelves, mowing lawns, shoveling snow, surveying property, making photocopies, reviewing/updating marketing materials, and other "office" jobs. This "ground level" experience in, and view of, the American workplace has enabled me to understand, at a human level, what my employment law clients are experiencing. Also, when evaluating technical issues in personal injury cases, I call upon my engineering background.
In addition to being a lawyer, I am also a human being who enjoys (among other things) exploring New York City, traveling, SCUBA/wreck diving, reading, video gaming, hiking, biking, and writing.
Court Admissions
New York State Courts
New Jersey State Courts
U.S. District Court for the Southern District of New York
U.S. District Court for the Eastern District of New York
U.S. District Court for the District of New Jersey
U.S. Court of Appeals for the Second Circuit
U.S. Court of Appeals for the Federal Circuit
Education
J.D., St. John's University School of Law, 2002
B.E., Civil Engineering, Vanderbilt University, 1998
Professional Affiliations
Publications
Pospis Law Blog:  Updates and commentary on recent legal developments, primarily in the areas of employment, personal injury, and civil rights law and litigation.
Media/Press
Miscellaneous
Radio Advertisement (note – since the airing of this advertisement the firm's phone number has changed to (212) 227-2100).